Close Full Article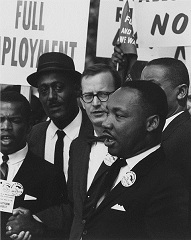 Nearly 100 years after the slaves were freed, our country still allowed blacks to be treated as 2nd class citizens in the 1950s and 1960s. Thousands of people risked their lives and defied the racist Jim Crow laws in the civil rights movement led by Dr. Martin Luther King. Through their courage and determination, the country turned a corner. We now have the civil rights act and the voting rights act, the institutionalized racism is now illegal, and the country is better off for it.
In 1863 the Emancipation Proclamation freed the slaves. No longer could black people be bought and sold like property. However, as we know, the end of slavery did not bring the end of institutionalized racism. Even though black people now could not be bought and sold, states could still make laws that prohibited people of color from being first class citizens.

Fast forward to the 1950s. America no longer had slavery, but states and local municipalities were free to make laws that segregated blacks and whites. Laws could be made for restaurants, bathrooms, busses, railroads, hospitals, and prisons which enforced separate facilities for blacks and whites. Public schools were separate. Among the most offensive were the literacy tests and poll taxes placed on blacks who tried to register to vote. Blacks were given literacy tests that no one could pass, and forced to pay fees that no one could afford. Black voter registration was pitifully low, so the racists who made these laws were never voted out of office. In southern states where blacks were 30-40% of the population in some communities, they were 2nd class citizens and powerless to change things.

Laws that enforced segregation were known as "Jim Crow" laws. The origin of the term "Jim Crow" comes from a song performed in the 1800s by Thomas Dartmouth "Daddy" Rice. Rice, a white man, was a struggling actor who darkened his face, then sang and danced to his song "Jim Crow." The performance was demeaning to black people but very entertaining to whites as it reinforced the idea that blacks were lazy and stupid.

Two Supreme Court decisions in the 1950s began the unraveling of the segregation establishment. The first was Brown v. Board of Education in 1954 which said that separate black and white schools are inherently unequal. The second decision was Browder v. Gayle in 1956 which grew out of Rosa Parks refusing to move to the back of the bus in Alabama. In this case the Supreme Court ruled it that racial segregation on buses was unconstitutional.

With these two decisions, the Supreme Court acknowledged that racial segregation was wrong and that laws of our land could not be made to continue such wrong-headed practices. However, people especially in the South were not going to give up segregation just because the Supreme Court said so. Groups all over the South began to organize to resist the actual practice of integration.

Mississippi was one state where the resistance to integration was most organized and eventually violent. After the Brown v. Board of Education decision, white people in all parts of Mississippi began to form chapters of what were called the "Citizens Council". These groups did not want their schools integrated and did not want their public facilities integrated. To them, everyone was happy with the social order, including black people. It was the "Yankees" from up north and the Supreme Court that was meddling in their lives. They used terms like the fight against "forced integration" and the fight to "preserve racial integrity". Parents of white children were concerned about inter-racial dating and about schools being able to maintain discipline once they were integrated. These groups pressured local politicians and law enforcement officials to maintain segregation practices. They created a large propaganda machine with mailings, radio ads, and even a local television show that aired right after the news. They used sanitized, patriotic rhetoric like

"If you agree that individual liberty and constitutional government must be preserved, if you want to do something positive and worthwhile to protect our freedom, then we want to hear from you."

In practice, the council maintained order by intimidation. For blacks, if anyone challenged a Jim Crow law, they could be fired. The same went for whites who showed any sympathy for blacks. They branded anyone a Communist if they spoke out against any of the council's activities. Publically they shunned violence, but people mysteriously were found dead in isolated places. Cops and local authorities were part of the citizen's council, and in many cases they carried out these acts or simply looked the other way.

While whites in Mississippi and other southern states fiercely resisted integration, civil rights groups organized brave actions all over to push for racial equality. In 1957 Martin Luther King helped to form the Southern Christian Leadership Conference. Early on, they established that the tactics of the civil rights movement would be civil disobedience and nonviolence. According to King, it was essential that the civil rights movement not sink to the level of the racists and hate mongers who opposed them: "We must forever conduct our struggle on the high plane of dignity and discipline."

In 1960 the Student Nonviolent Coordinating Committee (SNCC) was formed providing young black students a place in the non-violent movement to fight segregation.

These two organizations organized marches, sit-ins, and support for blacks in the numerous confrontations that occurred in the late 1950s and 1960s. Some of the most well known standoffs between blacks and whites were

1957 - Little Rock Arkansas - In the all white Central High School, the attempt to integrate is blocked by governor Orval Faubus. Nine black students are blocked from entering the school, and President Eisenhower is forced to send in Federal Troops to allow the black students to enter. These students are known as the "Little Rock Nine".

1960 - Greensboro, North Carolina - Four black students stage a sit-in at a segregated lunch counter in a Woolworth's store. The students are allowed to sit at the counter, but are refused service. This event triggers numerous other sit-ins in the South at parks, swimming pools, theaters, and libraries where black and white sections of the public facilities had been firmly in place.

1961 - The Freedom Riders - Student volunteers take bus trips throughout the South defying the state segregation laws in effect for public transportation. Riders face angry white mobs and in some cases are arrested at the end of their trips as the state level Jim Crow laws are still in effect.

1962 - Ole Miss University - James Meredith becomes the first black student to enroll at Ole Miss. Violence and riots erupts at the college as whites attempt to prevent him from enrolling. President Kennedy sends federal troops to escort Meredith into the college.

1963 - Birmingham Alabama - Police Commissioner Eugene "Bull" Connor uses attack dogs and fire hoses on black demonstrators. Images of the brutality are broadcast on national television.

1963 - Jackson, Mississippi - NAACP field secretary Medgar Evers is murdered. The shooter, Byron De La Beckwith, whose fingerprints are found on the murder weapon, is tried twice in 1964 by all white juries, and both trials result in hung juries. De La Beckwith is convicted 30 years later.

1964 - Neshoba County, Mississippi - 3 civil rights workers are murdered by the Ku Klux Klan, and the subsequent FBI investigation triggers a wave of racial violence. 7 of the Klan members who committed the murders are eventually tried and convicted on federal civil rights violation charges.

1965 - Selma Alabama - Blacks begin a march from Selma to Montgomery to support voting rights. Local police blockade the march and many marchers are hospitalized as police use tear gas, whips, and clubs against the marchers. The media refers to the event as "Bloody Sunday".

Each of the confrontations turned the tide of the country against racial segregation, as it was painfully clear who was on the right side of history. You had black people exercising their rights in a non-violent way, and white segregationists violently brutalizing and sometimes murdering them to preserve segregation and white supremacy. The country grew up in these days. People were inspired to do the right thing and they eventually forced Washington to come around. On August 28, 1963 200,000 people listened to Martin Luther King's "I Have A Dream Speech" and millions of others saw it broadcast.

I have a dream that one day this nation will rise up and live out the true meaning of its creed: "We hold these truths to be self-evident: that all men are created equal."
-
I have a dream that my four little children will one day live in a nation where they will not be judged by the color of their skin but by the content of their character.
-
And when this happens, when we allow freedom to ring, when we let it ring from every village and every hamlet, from every state and every city, we will be able to speed up that day when all of God's children, black men and white men, Jews and Gentiles, Protestants and Catholics, will be able to join hands and sing in the words of the old Negro spiritual, "Free at last! free at last! thank God Almighty, we are free at last!"

Amidst all of the violence and racial hatred, King's speech was a game changer. How could anyone not be inspired?

Washington did come around, though it wasn't easy. Kennedy was assassinated, but President Johnson, a Southerner himself, pushed through the Civil Rights Act of 1964 and the Voting Rights Act of 1965. Johnson clearly saw what was right and used his considerable political skills in persuading Congress to pass these landmark pieces of legislation. No longer would it be ok for states to make laws that treated blacks as 2nd class citizens. No longer would it be ok for blacks to be prevented from voting.

Clearly we turned a corner in the 1960s, but racial segregation, prejudice, and hatred did not end there. The country still had many more struggles to go through and we're still going through it. Forced school integration and bussing in the 1970s brought racial issues to the forefront again. The police beating of Rodney King caught on video, and the subsequent acquittal of the officers caused racial riots in 1992. But black Reverend Jesse Jackson was a serious candidate for President in 1984 and 1988. And of course, our first black President Barack Obama was elected in 2008.

Is institutionalized racism really gone from our society? It's no longer acceptable for people to be publically racist, but I'm sure there are plenty who still believe schools should be segregated and colored people should still sit in the back of the bus. In 2002 Senator Trent Lott of Mississippi was giving a tribute to long time Senator Strom Thurmond on his 100th birthday. Strom Thurmond was a man who in 1948 ran for President on a platform of individual states having the right to institute any racist law they saw fit. Lott said:

"When Strom Thurmond ran for president, we voted for him. We're proud of it. And if the rest of the country had followed our lead, we wouldn't have had all these problems over the years, either"

Whoops! All of those years of being a politician, and Lott finally let it slip out. In other words, if we'd elected Strom Thurmond, we would have been able to keep the Jim Crow laws in place, none of the civil rights "problems" would have happened, and blacks would still be 2nd class citizens. Lott was extremely embarrassed by his sudden candidness, and had to backpedal instantly. I'm sure plenty of Southerners and racists everywhere agree with Lott, but in 2002 you just can't say it out loud.

Segregation and Jim Crow laws are part of our history which we should never forget. Segregationists and racists used their own moral arguments in trying to preserve their way of life which was so obviously wrong. Eventually those who fought for integration and racial justice won out against those who tried to keep blacks as second class citizens.