Close Full Article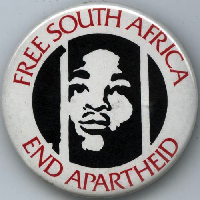 On December 5, 2013 we lost a great hero in Nelson Mandela. Mandela spent 27 years in South African jail during the apartheid regime before he was set free and then elected President in the first totally free election held in South Africa. What was apartheid anyway and why did the people of South Africa fight so hard to end apartheid? Or another question would be why did the world allow such an unjust system to persist in South Africa for as long as it did?

Apartheid is based on the word "apart." It is defined as an official policy that sets apart or segregates whites and non-whites by race. In 1948 the Nationalist party was elected in South Africa and they began to pass laws that were the basis of apartheid. However, not only were whites and non-whites set apart, but whites, who were 20% of the population, controlled everything. By 1953 the system was firmly in place where everyone registered and was classified by race - white, black, Indian, or colored. Whites were the only ones who could vote. Non-whites were moved, sometimes forcibly, to separate locations within South Africa. Schools, hospitals, beaches, busses, and all public amenities were designated by race, with whites of course getting access to the best amenities. Marriages between the races became illegal, as did sexual relations between the races. Perhaps the most dehumanizing laws were the pass laws. Everyone had to carry a passbook, which designated where in the country you'd be allowed to go. Whites could travel anywhere, but non-whites were restricted to certain areas of the country designated as their homeland. Any white person could "challenge" a black person, and the black person could be thrown in jail for being in a place in South Africa without permission. With only whites able to vote, these laws seemed to be permanently in place that made the 80% of non-white South Africans a permanent underclass. While the US Supreme Court was declaring separate but equal unconstitutional in 1954, South Africa was making segregation by race the cornerstone of its laws. And this less than a generation after Hitler had tried to create the master Aryan race in Nazi Germany.

The African National Congress (ANC) was formed years earlier in the 1920s as largely a labor rights organization. Nelson Mandela joined the ANC in 1944 and rose to the leadership ranks of the ANC by the late 1950s. On March 21, 1960 in the town of Sharpeville, 5000 black South Africans showed up to protest the pass laws. Police fired live ammunition into the crowd and 69 people were killed. As a result of the Sharpeville massacre, the ANC decided it had to retaliate and could no longer stick to only non-violent tactics. In response, the government "banned" the ANC and other protest groups as they instituted a state of emergency. Mandela was arrested but set free in 1961, after which he helped organize the militant Umkhonto we Sizwe (abbreviated MK) group. MK advocated bombings of military installations and power plants at night with the goal of violence but no human loss of life. Mandela was again arrested in 1962, this time convicted of travelling illegally and sentenced to 5 years in prison at Robin Island, South Africa's version of Alcatraz. In 1964 Mandela was convicted of sabotage and sentenced to life in prison. Much of Mandela's time in prison was spent in solitary confinement with no bed. He was allowed 1 visitor per year for 30 minutes. He spent a total of 27 years in prison. Pictures of Mandela in prison were not allowed. Throughout South Africa and the rest of the world, one picture of Mandela circulated which had him frozen in time in his early 40s.

In the 1970s another black leader emerged in the struggle against apartheid named Steven Biko. Biko spoke out eloquently against apartheid as the leader of the Black Consciousness Movement. He founded or co-founded a number of organizations as he spread the message to other blacks to continue to resist the racist laws. In 1973, Biko was banned by the apartheid government, meaning he was prohibited from traveling outside of his home district, prohibited from talking to the media, and even prohibited from speaking with more than one person at a time. He continued his political activity to the extent he could until 1977 when he was arrested in Port Elizabeth by police under an obscure anti-terrorism act. Biko was interrogated for many hours and brutally beaten in the process. With serious head injuries, Biko was transported, naked, in the back of a Land Rover 1100 km. to Pretoria where he died shortly after his arrival in Pretoria. Officials tried to attribute his death to a prolonged hunger strike, but it soon came out that he'd died from a massive brain hemorrhage from the injuries he suffered while in police custody.

Word leaked out to South Africa and the world about Biko's brutal death. Donald Woods, a white South African journalist and a friend of Biko's, helped spread the story and there were many demonstrations and protests. Woods was also banned, and his family was harassed by the government. In one incident, his children were sent Biko T-shirts that were laced with acid, and Woods' 5 year old daughter was severely burned. Woods felt it a duty to get Biko's story out to the world, and on New Year's Eve 1978 Woods disguised himself as a priest and hitchhiked 300 miles to the South African border with Lesotho. He then crossed the border in a mail truck and eluded South African authorities, where he was able to be joined by his family and obtain asylum in London. From London, Woods the journalist was able to expose to the world the brutality of the apartheid regime and the circumstances of his friend Biko's death.

Gradually in the 1980s the world became acutely aware of the oppressive regime in South Africa. Grass roots movements in the US and in the rest of the world began to demand action against South Africa. In the US groups pressured multinational companies to divest, or stop doing business with South Africa. Many people buying diamonds wanted to know that the diamonds were not mined in South Africa. In addition, grass roots movements held protests and pressured the US Congress to impose sanctions on South Africa to so the apartheid government would know this was not ok.

Congressman Ron Dellums, an African-American, had introduced a bill in Congress back in 1971 to impose sanctions on South Africa. He was inspired by a group of Polaroid employees where were taking pictures of black South Africans for the passbooks. The Polaroid group saw first-hand the oppression of apartheid. Dellums introduced the bill every year but failed to gather enough votes to get anywhere, as Cold War politics trumped any kind of racial injustice in the minds of politicians. South Africa was considered a friend to the US because they were not Communist, and the resistance in South Africa was looked at as Communist and allied with the Soviet Union. Mandela was called a terrorist and a Communist by many in Congress as well as Ronald Reagan and British leader Margaret Thatcher. Reagan and his conservative cold warriors called for a policy of "constructive engagement" with South Africa. What it meant in practice was the equivalent of saying to the apartheid regime "we're your friends because you're anti-communist, but you really should clean up the racial oppression because it looks bad."

Pressure on the Reagan administration to impose harsh sanctions mounted in the 1980s, and the conservatives pushed back. Reagan continued to call the ANC terrorists and considered apartheid to be a "tribal" policy certainly not equivalent to the racial injustice Americans had experienced in the days of segregation and Jim Crow. Future vice-president Dick Cheney called Mandela a terrorist. Conservative groups like the Heritage Foundation and the Moral Majority all were on record supporting the apartheid regime and opposing any kind of move to impose sanctions. Bishop Desmond Tutu from South Africa, a leader of the anti-apartheid movement who was not dead or in prison, called Reagan's constructive engagement policy "immoral, evil, and totally un-Christian." In a total embarrassment to the Reagan conservatives, Tutu was awarded the Nobel Peace Prize in 1984. Finally in 1985 Dellums' sanctions bill was brought up again and was stopped by a filibuster in the Senate by conservative Senator Jesse Helms. In 1986 the bill was brought up again and this time it passed with overwhelming majorities in both the House and the Senate. Reagan, still thinking that constructive engagement with the apartheid government was right, vetoed the sanctions bill. The veto was overridden by Congress, which was the first time in the 20th century a foreign policy bill was overridden.

The sanctions bill passed by the US Congress triggered additional sanctions against South Africa by Europe and Japan which had tremendous impact on their economy. With world attention and pressure on his country to reform apartheid, South African President P.W. Botha lifted some of the petty apartheid laws and had Mandela moved from Robben Island prison to a more humane prison where he was allowed visitors. Botha offered to release Mandela from prison under the condition that he would renounce violence. Mandela refused and stated that in a democracy there would be no need for violence. Then in early 1989, Botha suffered a stroke and was succeeded as president by F.W. de Klerk. De Klerk quickly moved towards negotiations on ending apartheid. On February 2, 1990 he ended the 30 year ban on anti-apartheid groups including the African National Congress. Then on February 11 Nelson Mandela was released from prison after 27 years.

In the years that followed, the legal apparatus for apartheid was dismantled and power sharing was negotiated between the government and the ANC. Mandela and F.W. de Klerk shared the 1993 Nobel Peace Prize. While this period was not without protests and violence, the transition away from apartheid was hammered out culminating with an election in 1994 in which all citizens, white, black, and colored, were allowed to vote. With the full population voting on April 27, the ANC won a majority and Mandela was elected President of South Africa. The April 27 anniversary is now celebrated each year as "Freedom Day" in South Africa.

Through the negotiations and his presidency, Mandela understood that the country needed leadership for everyone. He refused to strike back in retaliation for the apartheid laws or his 27 years in prison. Here is one of Mandela's most famous quotes:

As I walked out the door toward my freedom, I knew that if I did not leave all of the anger, hatred, and bitterness behind that I would still be in prison.

While many called for retribution against their former oppressors, Mandela worked hard between 1994 and 1999 to promote a peaceful transition to majority rule. He used the nation's enthusiasm for sports to promote reconciliation. In 1995, when the Rugby World Cup was held in South Africa, Mandela forged a partnership with rugby captain Francois Pienaar and encouraged all South Africans to get behind the Springboks, the South African national team that had previously represented all of the indignities of white rule. The Springboks won the tournament, and this story inspired the 2009 movie "Invictus".

Mandela continued on as President through 1999 and the country continued to heal away from world headlines. Though racial tensions still persist, South Africa is now a democracy thanks to the courage and leadership of Nelson Mandela.