Close Full Article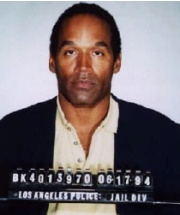 In May of 1994, Orenthal James Simpson was known to the world only as a retired football player and C-list actor. In his youth he had set records in the NFL, and had since made a couple mediocre movies, but was generally well liked and respected. At that time, no one expected anything from The Juice but the occasional guest spot on sports programs and a slow fade into obscurity. So it came as a shock when, in the middle of June, when O.J. became the prime suspect in the murder case of his ex-wife and her male friend. The case quickly made national headlines and went on to become one of the most controversial and publicized trials in United States history, culminating in a verdict of not-guilty based on a lack of sufficient evidence.
OJ and Nicole Brown Simpson were wed in February of 1985, and separated in 1989 after charges of domestic violence arose. They officially divorced in 1992. However, in the wake of constant celebrity marriages and divorces, this was all relatively low profile news. It wasn't until June of 1994 that the public's interest in Simpson was piqued again when Nicole Brown and Ronald Goldman, a male friend of hers were found dead in a pool of blood outside of her California condominium. Simpson was quickly brought in for an interview with LAPD detectives, and fived days later was charged with the murders. Along with Simpson's turbulent history with his ex-wife, police cited a long list of blood evidence that seemingly linked him to the scene of the crime.

On January 25, 1995, Simpson's criminal trial began. Simpson was to be defended by lawyer Johnnie Cochran, who had earlier that year defended singer Michael Jackson against allegations of sexual abuse, and would go on to work for rapper Sean Combs and civil rights legend Rosa Parks, as well as several other major celebrities. By the time of the trial, the story had been national news for months, so the media was eager to get all they could on the trial. In the public, the case had sparked a controversy that seemed to extend to more than just the downfall of an American sports hero. While some viewed the case as open and shut, and the mountain of evidence against Simpson as insurmountable, others saw it as a matter of race-relations. The LAPD has often and long been accused of racial profiling and bias. This was the stance Cochran's defense took, claiming that because of the timeframe of the murders, (Simpson was last seen at 9:40 PM, and then again at 11 PM, meaning that he would have had to drive to Nicole Brown's house, kill both of them, hide their bodies, drive home and compose himself within that time), the only logical explanation of the evidence was that it had been planted by the police.

In return, the prosecution had the blood evidence DNA tested to show that it belonged to Simpson, and by all accounts, it did. They also provided the testimony of Brown-Simpson's neighbors and of Simpson's limousine driver in order to prove that Simpson did have the time after all. The defense rebutted by cross-examining the neighbors, revealing that the police had not had search warrants when they searched Simpson's house. They argued that this was evidence that Simpson had been racially profiled, and that the police had decided on his guilt before they had sufficient evidence. The climactic (and most media-friendly, as it turned out) moment of the trial, was when Simpson was asked to try on the bloody gloves that the prosecution had been using to connect him to the crime scene, and showed that they were much too small for his hands. This had been a pivotal point of evidence for the prosecution, and its apparent dismissal came as a crushing blow to their case, and sure enough, in October of 1995, Simpson was found not guilty on the charges of murder and released due to insufficient evidence. However, the public controversy over the case never ended.