Close Full Article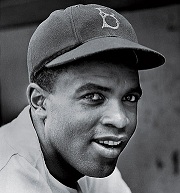 Before 1947 no one of color had ever played an inning in Major League baseball. Jackie Robinson was chosen by Brooklyn Dodgers general manager Branch Rickey to break the color barrier. Over his career, Robinson endured vicious racial hatred from fans, opposing players, and even players on his own team. His courage, moral fortitude, and outstanding play on the field led to his acceptance into the baseball world and opened the door for stars such as Willie Mays, Hank Aaron, Frank Robinson, and others who thrilled the sports world in the decades that followed.
The end of World War II brought major league baseball back, as many of the stars such as Ted Williams and Bob Feller missed multiple seasons fighting for their country. Baseball had its stars back, but it was still missing one thing - no one of color was playing in the major leagues. Blacks could fight and die in the military albeit in a segregated military, but they could not play major league baseball.

Visionary general manager Branch Rickey of the Brooklyn Dodgers thought it was time to break the color barrier, and in 1945 he signed Jackie Robinson who would become baseball's first player of color. Rickey felt there were many players in the Negro leagues skilled enough to play in the major leagues, but chose Robinson also because of his temperament. He knew Robinson would face racist taunts and hostility from both the fans and his fellow players.

On April 15, 1947 Robinson made his major league debut at Ebbets Field in Brooklyn. He had to deal with his own teammates, some who refused to play alongside him. He had to deal with rival teams yelling racial slurs and often trying to take him out on the basepaths. And he had to deal with who shouted the worst kind of racial slurs imaginable. Rickey had instructed Robinson to turn the other cheek, and that he did. Robinson had a terrific rookie season and was awarded Rookie of the Year.

Some of Robinson's teammates embraced him right away. Pee Wee Reese the Dodger shortstop was known to have stood by Robinson in the midst of the racial slurs. Bobby Bragen, the Dodgers' second-string catcher, at first was one of a group of white players, largely from the American South, who signed a petition protesting Robinson's presence. But Bragan quickly relented. "After just one road trip, I saw the quality of Jackie the man and the player," Bragan told mlb.com in 2005. "I told Mr. Rickey I had changed my mind and I was honored to be a teammate of Jackie Robinson." When Bragan attended Rickey's funeral in 1965, he stated that he decided to attend because, "Branch Rickey made me a better man."

Robinson played 9 more seasons for the Dodgers, winning the MVP twice and helping the Dodgers to a World Series win. More importantly Robinson led the way for more players of color to come into the game. If Jackie Robinson hadn't been so brave to break the color barrier, we might not have seen Willie Mays, Hank Aaron, Ernie Banks, Roberto Clemente, and Frank Robinson in the 1950s and 1960s. All had to put up with the racism that was still percolating in America. In addition, while the color barrier was broken on the field, it took until 1975, 3 years after Robinson passed way, before baseball had a black manager.

What was wrong with these people? For years before Robinson, it was obvious that players in the Negro leagues were just as good as major leaguers. Because of racism, two of the greatest Negro leagues Satchell Page and Josh Gibson never got a chance in the major leagues. Josh Gibson died before he saw any player of color play in the majors. Satchel Paige finally got a chance to play for the Cleveland Indians at age 42 well past his prime. He could have been one of the greatest pitchers ever, and in 1971 Paige was elected to baseball's hall of fame. Giving Paige a chance late in his career and inducting him to the Hall of Fame are partial remorse from Major League Baseball for keeping the doors closed for so long for black players.