Close Full Article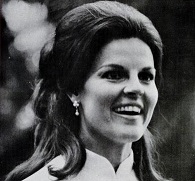 Anita Bryant was an American singing star, beauty pageant queen, and spokeswoman for the orange juice industry. She was at the height of her stardom in 1977 when she took up the cause of opposing homosexuality. She first became active in a local Florida campaign to reverse a law that prohibited discrimination because of sexual orientation, and she later became involved in many anti-gay activities nationwide. Eventually the controversy ruined her singing and entertainment career. Who has the moral high ground? Did Bryant deserve to be vilified for expressing her deeply religious views on homosexuality? Is the gay community justified in standing up against her anti-gay crusade?

Bryant was born in 1940 in Barnsdall, Oklahoma. She was blessed with a beautiful singing voice and sometimes was invited to sing on radio and television as a teenager. In 1958 she became Miss Oklahoma and later was the 2nd runner up in 1959 in the Miss America beauty pageant. With this notoriety her singing career took off and she scored the best-selling hits "Till There Was You" in 1959 and "Paper Roses" in 1960. Through the 1960's she continued to produce hit songs.

Perhaps the peak of Bryant's stardom came in 1969 when she became the spokeswoman for the Florida Citrus Commission, and her advertisements for orange juice reached the living rooms of everyone in America. Remember, there were 3 networks on television and you could not zap through commercials. If you grew up in the late 1960s, the tagline delivered by Anita Bryant "Breakfast without orange juice is like a day without sunshine" was burned into your brain. Bryant could be seen on many other advertisements for the food industry and was the host of the yearly Orange Bowl Parade held in Florida to go along with the famous college football game on New Year's Day.

One of Bryant's first political causes that she became active with was the 1969 "Rally for Decency" in which thousands of young people rallied to protest the lewd behavior of Jim Morrison, lead singer of the rock band "The Doors" who weeks before at a Miami concert had allegedly exposed himself. Bryant and a number of other stars attended the rally.

Prior to 1977, the gay community and the religious right had very few confrontations even though their value systems were diametrically opposed. Homosexuality is considered a sin as stated in the Bible. The following are two of many passages in the Bible that condemn the act of homosexuality.

Leviticus 18:22
"Do not practice homosexuality, having sex with another man as with a woman. It is a detestable sin."
Leviticus 20:13
"If a man practices homosexuality, having sex with another man as with a woman, both men have committed a detestable act. They must both be put to death, for they are guilty of a capital offense."

However, in the 1970s, many (or most) homosexuals were still "in the closet." Outside of a few openly gay communities such as San Francisco, gay people kept their sexuality secret. Many closeted gay people would lead double lives, visiting gay bars and bath houses in secret while showing no signs of their sexual preference to their family and friends. Many others struggled with their own sexual preference, trying to lead the life of a heterosexual knowing the pitfalls of allowing their sexuality to be in the open. Those who were openly gay were subject to relentless discrimination, bullying, and often violent harassment. There were no laws protecting homosexuals in the workplace from being fired, and there were no laws protecting gays from hate crimes.

In 1977 in Dade County, Florida, a local ordinance was approved that banned discrimination in the workplace, housing, and public accommodation based on sexual orientation. The ordinance was sponsored by Bryant's friend Ruth Shack who immediately became a former friend. Bryant organized a highly publicized campaign to repeal the ordinance through referendum, which was known as "Save Our Children". The campaign was based on the Christian beliefs that homosexuality was sinful, and she used her star power to organize the repeal effort. The following are quotes from Anita Bryant.

What these people really want, hidden behind obscure legal phrases, is the legal right to propose to our children that theirs is an acceptable alternate way of life. [...] I will lead such a crusade to stop it as this country has not seen before.
As a mother, I know that homosexuals cannot biologically reproduce children; therefore, they must recruit our children.
If gays are granted rights, next we'll have to give rights to prostitutes and to people who sleep with St. Bernards and to nail biters.
On June 7, 1977 the ordinance was repealed by an overwhelming vote of 69 to 31 percent. Bryant's crusade had succeeded and with that energy her Save the Children campaign spread nationwide. With the help of Jerry Falwell's Moral Majority and other Christian groups, she led successful campaigns against anti-discrimination ordinances in St. Paul, Minnesota, Wichita, Kansas, and Eugene, Oregon. Furthermore in Florida, the legislature passed a law that prohibited children from being adopted by gay parents.

Meanwhile, the gay community nationwide became well organized in their opposition to Bryant's campaign. Being a public figure, Bryant became a flashpoint. In Miami, an organization was of gay men and lesbians was formed to boycott Florida orange juice. This movement attracted such stars as Jane Fonda, Barbara Streisand, and Bette Midler. Gay bars stopped offering screwdrivers made with orange juice but instead offered the "Anita Bryant" drink made from apple juice and vodka. Bumper stickers were made with the slogan "A day without human rights is like a day without sunshine." The most famous public protest to Bryant came in 1977 in Des Moines Iowa when gay activist Thom Higgins interrupted her speech by throwing a pie in her face. Higgins gave himself up to authorities peacefully while Bryant was heard to say "at least it's a fruit pie" perhaps giving another dig at the gay community by using the pejorative reference to "fruit".

An even more far reaching referendum fight ensued in 1978 in California. In 1977 California Senator John V. Briggs sponsored a bill that would have led to the dismissal of any teacher or public school employee who spoke about homosexuals in any positive or even neutral way. This bill was voted down by the California legislature, but Briggs submitted the same bill as a referendum for November, 1978. Bryant became a major figure supporting the initiative, but this time the gay community was ready. With leadership from gay activist Harvey Milk, the gay communities in San Francisco and other urban areas organized large anti Anita Bryant marches and protests. President Jimmy Carter, former President Gerald Ford, and even staunch conservative future President Ronald Reagan came out against the Briggs initiative. When Election Day came in 1978, the initiative failed by a 2 to 1 margin.

Through all of her anti-gay activities, Anita Bryant went from the likeable face on the orange juice commercials with the beautiful singing voice to a harshly polarizing figure steeped in controversy. She was no longer wanted by NBC for the Orange Bowl parade, and the Florida Citrus Commission dropped her as their spokesperson. She became the object of ridicule by comedians such as Johnny Carson. To make matters worse, her marriage t Bob Green broke apart in 1980 and she divorced him despite the religious prohibitions against divorce. Without her endorsements, Bryant was also shunned by the church because of her divorce and her major sources of income dried up. In 1990 she married her second husband, former astronaut Charlie Hobson Dry and together they attempted to relaunch her music career. However these business ventures failed and she filed for bankruptcy twice, once in 1997 and again in 2001. Today she still has singing engagements and since 2006 has run the website Anita Bryant Ministries International, which emphasizes her spiritual and religious beliefs but avoids all of her past controversies over homosexuality.

For the gay community, Anita Bryant's crusade clearly did them a favor even though the political confrontations were often ugly. The fight over the Briggs initiative in California brought the gay community together and out of the closet. It has been a bumpy road for gay men and lesbians since this time (and the AIDS epidemic certainly slowed progress), but who could have imagined that gay couples could legally be married in 30 states by the year 2014.

One final anecdote - talk show host Nancy Grace in May, 2014 tried to equate a mentally deranged attacker of actor Brad Pitt to the pie in the face incident with Anita Bryant In 1977. She characterized Higgins the gay activist as a mentally deranged person attacking the sweet lady Anita Bryant, completely ignoring the reason for the pie in the face - her anti-gay crusades.